Here are a few of the products provided by Rheem
Rheem has nearly 100 years of experience and has used the power of gas to fuel some of the greatest advancements in energy-efficient home heating. Buying a Rheem gas furnace is one of the smartest choices any homeowner can make.
Because of their innovations and years of experience, we are proud to be a Rheem product provider.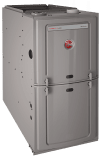 Classic Plus Series: 80% AFUE 2-Stage Upflow/Horizontal (R802T)
Three way multi poisa design
Constant Torque Motor
Input rates 50-150 KBTU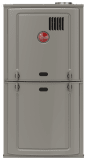 Rheem Classic Plus Sories Ultra Low NOx 80% AFUE R801T Upflow Gas Furnace
FIRST CERTIFIED, lowest emission furnace in the industry
Environmentally friendly and responsible product
Single Stage, Same 34 Cabinet Height, Simple Technology
Eligible for the $500 SCAQMD www.cleanairfurnacerebate.com air furnace rebate"
We think Rheem Air Conditioners are some of the finest air conditioners in the business. Rheem has innovative cooling solutions with the latest technology and dependable performance. You can't go wrong with a Rheem Air Conditioner which is backed by great warranties.  Depending on the size of your home, there is an A/C model that will provide the cooling you desire.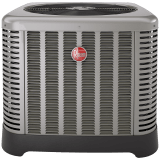 Classic Series: Single Stage (RA16)
Efficiencies up to 16 SEER/13 EER
Scroll compressor
Composite base pan for quieter operation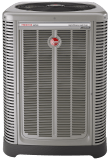 Prestige Series: Variable Speed (RA20)]
EcoNet Enabled
Cooling efficiency: 20.5 SEER/14.5 EER
Powder coat paint system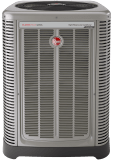 Classic Plus Series: Two-Stage (RA17)
Efficiencies up to 17 SEER/13 EER
EcoNet enabled
Two-Stage
Scroll compressor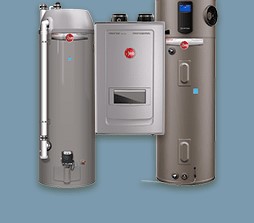 With a tankless water heater, you will be able to maximize your savings and appreciate the space you will save in your home.
You will be able to enjoy instant hot water, whether it is for laundry, your dishwasher, or a relaxing hot bath. Water is pumped through the heat exchanger and ready for your back-to-back hot water needs.
Rheem offers a line of thermostats that meets your budget. Some are programmable that helps save you, the homeowner, up to 30% on heating and cooling cost.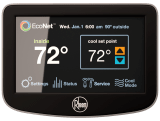 Built-in WiFi and 4.3″ LCD touch scroon
Vacation Scheduling: Allows you to save while you're away and come home to comfort
Motion Sonsor: Automatically wakes the screen as you approach
Control up to 65% of your home's energy use from one location
Compatible with the free Rhoom EcoNet App for control of your systems from home or on-the-go
Reduces energy costs by up to 30%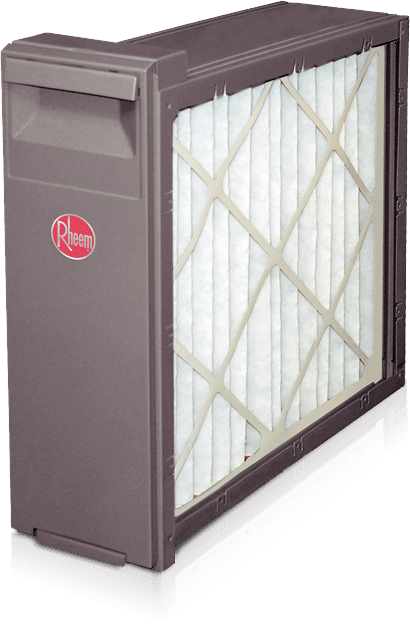 We know you want to enjoy cleaner, healthier air, and a Rheem Whole-Home Exact Fit Media Air Cleaner can be a first choice investment for your peace of mind. It reduces major pollutants and coordinates well with air handlers and gas furnaces, while maximizing surface area and minimizing filter changes.
Don't let stale air continue to circulate over and over throughout your home. Ask us about an air filtration system today!